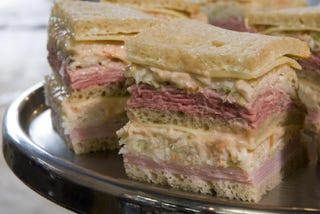 Now that the great american menu has gone viral, and the listicle aggregating succubus is getting in on the action, I wanted to point out a bona-fide NJ sandwich from a little town called South Orange.
Imagine if you will, a massive rectangular plank of rye bread, maybe 5" by 12," lovingly layered with thinly sliced ham, tongue, and swiss cheese. Cover that meat with scoops of cole slaw and finish with Russian dressing. Top it with another plank of rye and repeat the process. YES, IT IS INDEED DOUBLE DECKER. Slice that biddy into eight pieces and I give you a sandwich fit for a king, that could satiate two men or one lumberjack. My friend behold, the Sloppy Joe!
(Pictured: one human's feeble attempt to conquer the Sloppy Joe)
Yes I know the lion's share of this hungry nation thinks of a sloppy Joe as something else:
But this is what I have in my head when I think of NJ food. If sandwiches are a religion, I would sign up to be a martyr for the church of Sloppy Joe.